Series UL - 105
Used for Grinding, Light Milling, Drilling & Inspection of Round & Square Jobs.
Accuracy as per IS - 2949 - 1974.
Hardness 60±2 Rc.
Supplied in perfect matched pair.
End face grinding, square with sides is possible.
Two 90° "V" angle for different capacities.
Special sizes can also be manufactured.
Supplied with Clamp.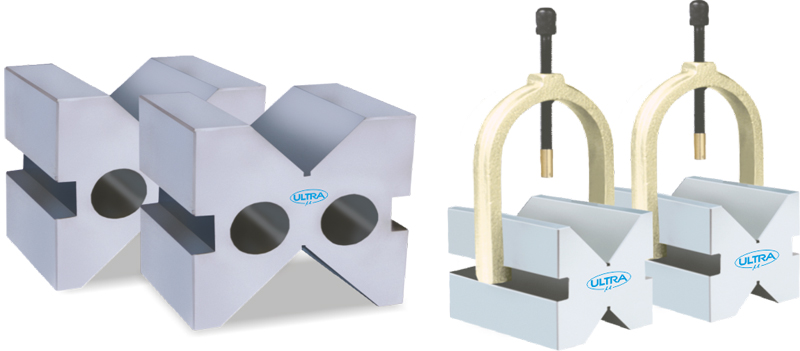 | | | | |
| --- | --- | --- | --- |
| Sr. No. | Cat No. | Size ( mm ) | Range ( mm ) |
| 1. | UL-10501 | 50 L x 40 W x 40H | Ø 5 - Ø 40 |
| 2. | UL-10502 | 50 L x 50 W x 50 H | Ø 5 - Ø 50 |
| 3. | UL-10503 | 63 L x 50 W x 50 H | Ø 5 - Ø 50 |
| 4. | UL-10504 | 63 L x 80 W x 80 H | Ø 7 - Ø 80 |
| 5. | UL-10505 | 63 L x 100 W x 100 H | Ø 8 - Ø 100 |
| 6. | UL-10506 | 70 L x 140 W x 140 H | Ø 9 - Ø 140 |
| 7. | UL-10507 | 80 L x 63 W x 63H | Ø 7 - Ø 63 |
| 8. | UL-10508 | 100 L x 80 W x 80H | Ø 7 - Ø 80 |
| 9. | UL-10509 | 150 L x 200 W x 200 H | Ø 10 - Ø 200 |
| 10. | UL-10510 | 200 L x 200 W x 200 H | Ø 10 - Ø 200 |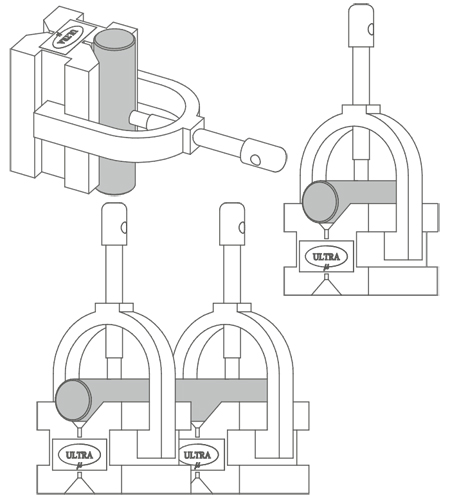 Hardened & Ground "V" Blocks : Series UL - 103
Used for Grinding, Light Milling, Drilling & Inspection of Round & Square Jobs.
Accuracy for Flatness, Squareness and Parallelism within 0.010mm up to 150W above that 0.020mm up to 200W.
Hardness 60±3 Rc.
Supplied in perfect matched pair.
Supplied with clamp which can be used from both sides to suit job dimensions.
Holds & Clamps the heavy jobs rigidly.
Can also be used for end face, side face and right angle Grinding
| | | | |
| --- | --- | --- | --- |
| Sr. No. | Cat No. | Size ( mm ) | Range ( mm ) |
| 1. | UL-10301 | 65 L x 150 W x 75 H | Ø 5 - Ø 100 |
| 2. | UL-10302 | 65 L x 175 W x 100 H | Ø 5 - Ø 125 |
| 3. | UL-10303 | 75 L x 200 W x 125 H | Ø 5 - Ø 150 |